If you are subscribed to our INDULGE in Nutrition monthly newsletter you got to read all about National Nutrition Month(NNM) which has been going on throughout the month of March. The theme for NNM this year is "Bite Into a Healthy Lifestyle," and that is exactly what we have been trying to give you the resources to do! There have been a lot of green things in this kitchen this month- we hope you are loving it. And more importantly, we hope you are teaching your kids to love it!
Before we move on to Easter fun on this blog, we wanted to share one more green recipe! Green smoothies are quick and very easy to personalize. They are also packed full of vitamins, minerals, and nutrients (all in one drink)! Here are some of the benefits of the ingredients in this particular smoothie:
Dark, leafy greens: Baby spinach, romaine lettuce, and kale-

 These all promote good blood clotting, healthy vision, immune function, and skin and bone health. The fiber content improves digestive function (hello roughage)! They have been shown to lower the risk of heart disease and diabetes, improve muscle strength, lower the risk of certain types of cancer, detoxify the body, and act as anti-inflammatory agents. They are also good for women hoping to get pregnant (thanks to the folate content).

Green apples:

 Can lower your risk of chronic diseases, promote weight loss, and regulate blood sugar. It also is very good for your heart!

Celery stalks:

Thanks to it antioxidant content, celery can help us have healthy cells, blood vessels, and organs. It reduces inflammation, can be soothing to our nervous system, regulates pH in the body (no one wants to be acidic), and lowers blood pressure and LDL("bad" cholesterol. And it just freshens up that smoothie. 🙂

Matcha Green Tea Powder

: Grinding the whole green tea leaf really maximizes its benefits because when you drink it, you are getting the WHOLE LEAF. Wow! It is like brewed green tea times 10. This stuff is a cancer fighter, mood booster, and metabolism-raiser. It is a great detoxifier, chronic disease and virus fighter, blood sugar regulator and is also rich in fiber and a lot of vitamins and minerals. And all it takes is 1/4-1/2 teaspoon!

Bananas:

Not green, but can sweeten up your smoothie without making it unhealthy. It is good for nerve and muscle function, heart health, immune function, fluid balance, and absorption of iron.

Lemon juice

: Lemon juice is so refreshing. It is great for your digestive tract, can help fight cancer, help your body, bones, and muscles stay strong, promote a great immune system, and balance pH.

Apple cider vinegar:

It doesn't take a lot of this stuff to reap benefits! It can lower cholesterol, detoxify, increase metabolism, promote bowel movement or help with diarrhea (miracle food? Maybe), regulate blood sugar, improve the immune system, and help with weight loss.
WOW!! I could go on and on. I don't start my day without one of these smoothies.
Here's what you need:
2 handfuls of any combination of baby spinach, kale, and romaine lettuce
1 stalk of celery (go on and use the whole thing, leaves and all)
1/2 small green apple
1/2 slightly green banana (go ripe for a sweeter smoothie)
Juice of 1 whole lemon
1/2 tsp apple cider vinegar
1 cup cold water
4-5 ice cubes
Optional: 1/4-1/2 tsp Matcha Green Tea Powder and sweetener of choice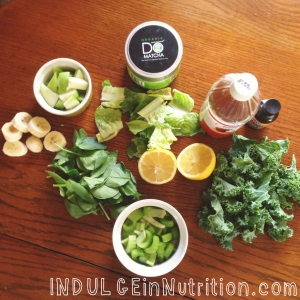 Directions:
1. If you didn't buy your greens pre cut, go ahead and chop them up. Then throw each of them into the blender. Putting your greens in first will help it to blend well without getting stuck.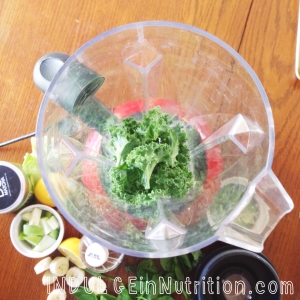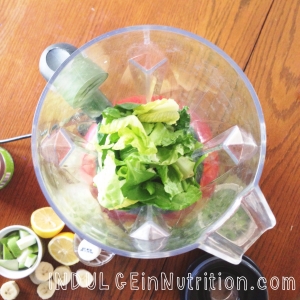 2. Chop 1/2 of an apple into small chunks and add them in with the greens.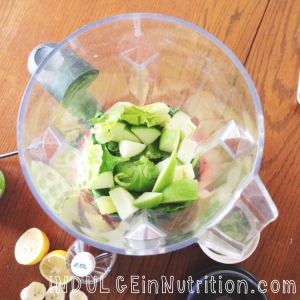 3. Slice celery stalk into a few pieces and toss them in there too!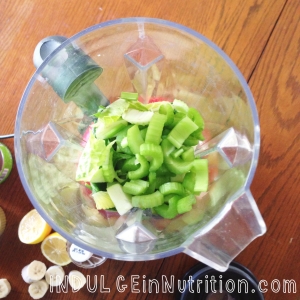 4. Slice 1/2 of your banana up and, you guessed it, add it in with the rest.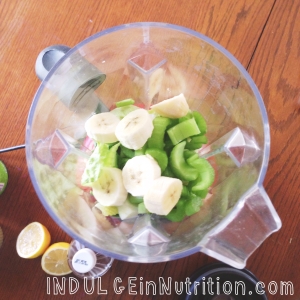 5. Squeeze your lemon straight into the blender. Roll it on the table with your fist first to release some of the juices. It's ok if some seeds get in there- they'll blend right up!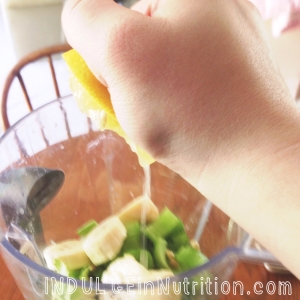 6. I use the cap on my apple cider vinegar bottle to measure out what I want, and I normally use half a capful and pour it with the rest of the ingredients. It is very powerful!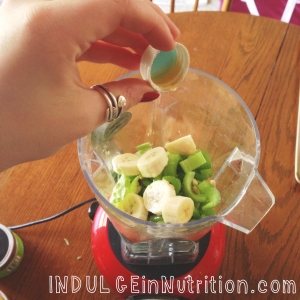 7. Scoop out your Matcha if you choose to use it (it doesn't alter the taste, but is so good for you!) and sprinkle it on top.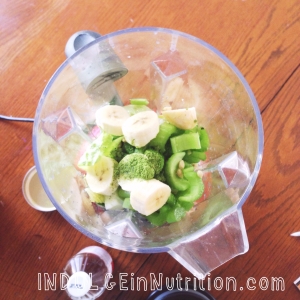 8. Pour in 1 cup of cold water and add ice cubes.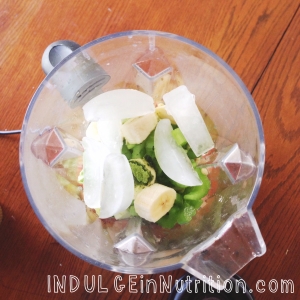 9. Blend until all/most of the greens are liquefied, then add your sweetener of choice (I use a few drops of Stevia), and blend for a few more seconds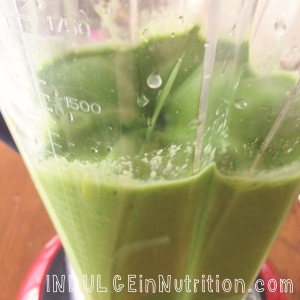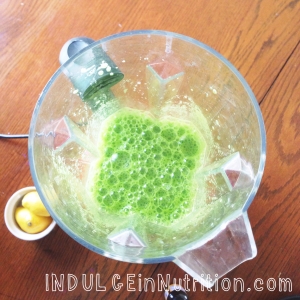 YUM!
This makes one giant (very filling!) juice smoothie or two normal sized ones(if you like to share). But I think the best way to split it up is one mommy-sized clean, green smoothie and one toddler-sized Incredible Hulk Juice!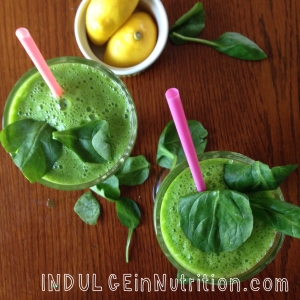 You may be thinking "there is no way my kid is going to drink a green smoothie (without screaming or throwing up.)" But it might be all in the name! Try telling your kiddo that you're giving him an "Incredible Hulk Juice." (That's what the Hulk drank to get so strong and green right??) And if that doesn't work, you can always throw in some strawberries to brighten the color up. 🙂